Breakthroughs occur when connections are made naturally—from one clear, concise idea to the next and from one person to another.

Like your personal, public speaking and professional goals, our goal is that you continually make new discoveries through the connections you make.

During your training, we'll unlock your inner strengths and personally coach you to push past the barriers that stifle your growth as a powerful leader. We'll invite you to take a step outside yourself to see how your personal effect and the information you present plays into the bigger picture of your overall presence.

In facing yourself and your challenges, you'll be able to address the weak points and make the proper adjustments so that each and every time you're at bat, you'll be able to complete the connection between you, your ideas, and your audience.

Simply put, you'll be able to break through and connect.


Powerful People Make Natural Connections
Your identity as an influencer and leader depends on your ability to make powerful connections with others. We'll help you draw out more of your unique essence, your innate expression—what makes you, you—by providing our professional expertise and candor in your best interest.

After all, we're not here merely to flatter people by saying "oh, you've got a great image"—we're here to give you real feedback and say "wherever you are let's go to the next level or even higher and see what impact you can create from there!"


The Team
Michael Harrington
President & Speaker of the House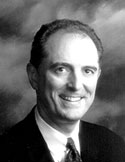 Michael Harrington's reputation as an insightful expert in communication and behavioral change has taken him across the country and the globe, since 1991, to provide presentation training and media training for CEO's, athletes, individuals and corporate executives seeking to communicate at their best and maximize their presentation presence.
Michael is a sought-after speaker who offers creative and innovative presentations on a number of topics, from "Speaking Is A Sport" to "Secrets to Establishing Your Presentation Presence," and more. His inspirational and motivational presentations are memorable, and guaranteed to inspire your audience to move forward to connect with their listeners every time they speak.
Deirdre Landix, Ph.D.
Deirdre has over 18 years of presentation training experience with executives and management in many of the top Fortune 100 companies. A terrific trainer with international experience, Deirdre brings a warm, understanding, yet firm coaching style that draws each participant to higher levels of skill and comfort. Deirdre recently completed her Ph.D. in Cross Cultural Communication.
Karla Beck, MA SLP CCC
A top presentation skills trainer since 2001, Karla trained under Michael Harrington and now combines her presentation training time with her 21-year career in speech pathology. Karla has worked with many Fortune 500 companies and demonstrates a professional and animated presence, while she encourages and prods participants to strengthen their unique presentation style.